Finding the lowest cost, least risk way to Net Zero
Reaching net zero cost effectively is the biggest challenge energy consumers face today. Climate and sustainability goals become more aggressive by the day. The easy work is mostly complete. Credits and offsets only go so far. Thermal energy remains harder to decarbonize than electricity.
Compounding the challenge is an energy landscape that has never been more complex. Grid reliability and utility asset aging present daily risks of outage and interruption. New technologies and business models make the impossible seem tangible; and the regulatory landscape has never been more confusing.
2G Energy is empowering our customers to achieve their climate and energy goals faster and more cost effectively. Our field proven hydrogen CHP systems provide unmatched economics and resiliency. As with 2G's entire product portfolio, we are aligned around the singular goal of providing the lowest cost, least risk way to Net Zero.
Check out 2G's 100% Hydrogen CHP systems by clicking here.
Hydrogen CHP – The Enabler
What is the fundamental difference between a hydrogen-powered CHP and conventional natural gas or biogas-powered CHP? Not much. All main components such as the generator, heat exchanger, pumps, etc. are almost identical. Even the engine itself is based on existing systems that have been installed thousands of times by 2G worldwide.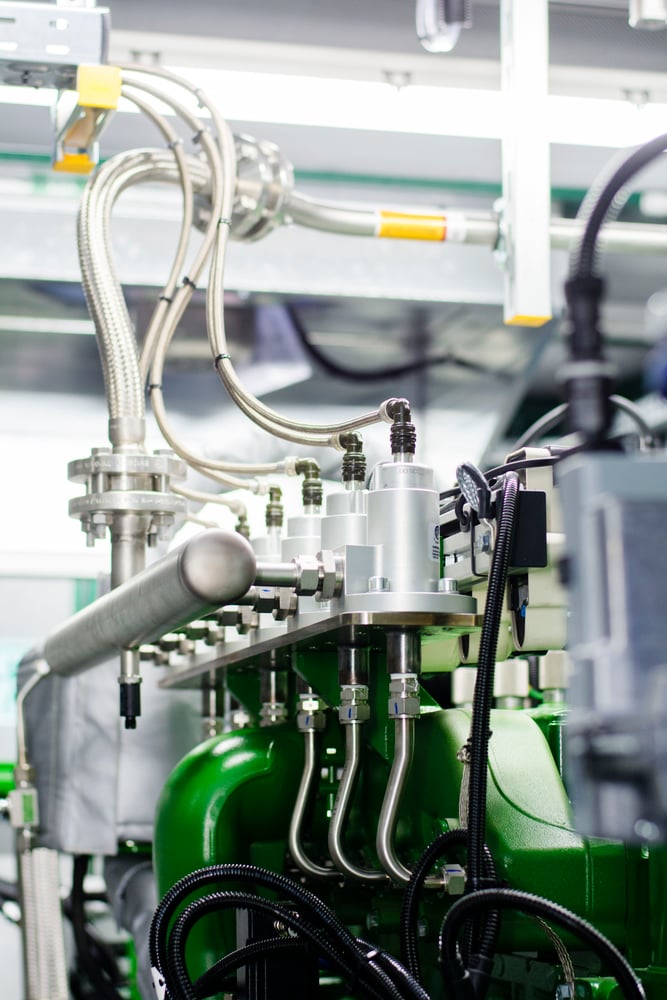 Hydrogen CHP provides several advantages over other hydrogen technologies such as fuel cells or turbines:
Cost: Almost identical manufacturing processes mean that the costs for a hydrogen CHP unit only slightly exceed those of a natural gas variant or biogas variant.

Long term operational assurance: Multiple units deployed around the globe operating commercially, means we can offer the operational assurances of a commercial and fully warranted product. Our customers trust us to stand behind our products and guarantee the lowest total cost of ownership of an asset over its useful life.

Widest Range of Operating conditions: Start, Stop and Ramp to match loads. Our systems are optimized for flexible dispatch either standalone or in a multi resource microgrid.

Full Fuel flexibility: Run on 0-100% H2. Dynamic fuel blending with RNG, biogas, propane, LNG, or pipeline gas gives you ultimate protection. Maximize your renewable generation, while never losing the resiliency and cost hedge your business needs.
Decades of hydrogen, and renewable fuel experience
Our hydrogen development began more than a decade ago with the funding of our first project in Germany- a long time before the country's nuclear and coal phase-out were legally decided. Since that time, we have deployed units around the world with the leading hydrogen market participants.
For the past 25 years, 2G's core business was built around the other renewable fuel- biogas. With 7,500 projects deployed in over 55 countries, we boast one of, if not the highest percentage of renewably fueled fleets on the planet. Biogas, RNG, syngas and hydrogen are all commercially viable fuels for 2G.
"The spirit of innovation that has always been strong at 2G, coupled with many years of experience in the field of gas engine development, was the ideal foundation to enable the use of hydrogen in CHP units", explains 2G CTO Frank Grewe.
The fact that the timing of technical market maturity goes hand in hand with the increasing identification of hydrogen as an important element of the future energy world is of course very positive ", continues Grewe.
Grewe refers to the many years of development experience, "The adaptation of an internal combustion engine to changing gas qualities or the use of completely different gas types always requires a large number of different individual measures that must be coordinated with one another. Even apart from major changes, such as the different fuel supply, there are many little things that matter. This ranges from adapting the ignition timing to optimized turbocharger settings to individual control and software solutions that we develop almost entirely in-house." This technical flexibility makes it possible to change the hydrogen content during operation.
"Our projects have been implemented which shows that the technical feasibility is not a problem. For us as a manufacturer, the only challenge is to further improve the engine's output. We have currently approved our hydrogen engines with up to 14 bar mean pressure compared to 18 bar mean pressure for the natural gas series, which reduces the output to a certain extent. On the development test bench, however, we already run hydrogen at 18 bar, so that the performance will be identical in the medium term", reports Grewe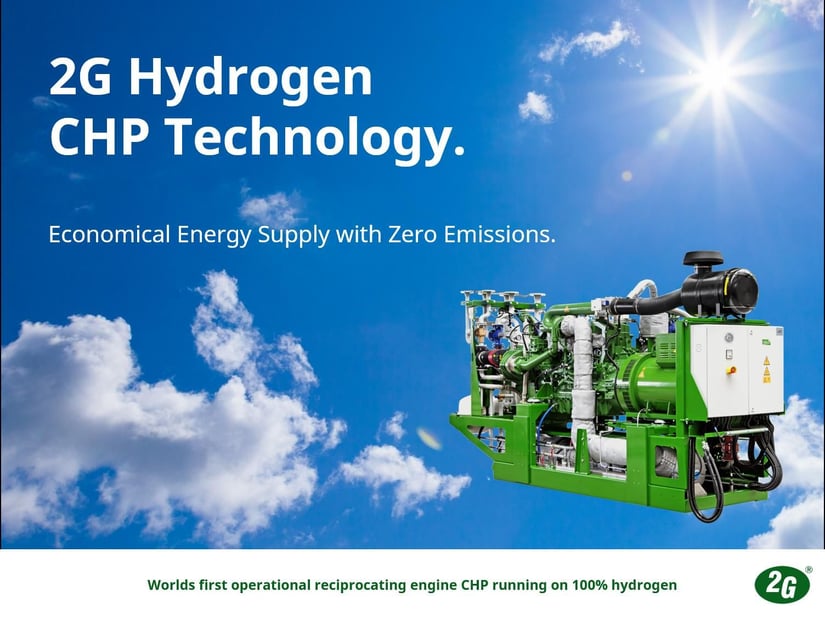 High ROI Future Proof investments
A key focus for 2G from the onset of the hydrogen technology development was the possibility of retrofitting existing natural gas or biogas-operated systems for operation with hydrogen. 2G's standard products can be operated with a mixing ratio of up to 40% hydrogen with no changes to the hardware required.
In order to achieve 0 – 100% flexibility the standard units can be field retrofitted with a hydrogen fuel train at any time. Simple adjustments to the fuel supply and the combustion chamber components, and updating the software is all that is required. This approach has great economic benefits, as an increase in the hydrogen economy can build on the existing infrastructure. 2G has created an economic solution that makes the energy transition affordable.
Hydrogen's great potential for the United States
President Joe Biden pledged Thursday, April 22nd, 2021 — Earth Day — to cut U.S. greenhouse gas emissions in half by 2030.
Yet the challenge remains: How can we become climate-neutral in a cost-efficient manner? Hydrogen-powered CHP is that decisive backbone.
A major share of the energy mix will come from two sources in the future, wind and sun, and thus make the greatest contribution to achieving the climate targets. However, the sun does not always shine, and the wind does not always blow when the demand is there. And conversely when the sun is shining, and the wind is blowing the energy demand is not always there.
Excess energy generated from wind and solar power can be converted into hydrogen by electrolysis process and stored for later use. The use of this "green hydrogen" has great potential in the energy sector – both electric and thermal. Hydrogen is being added to the natural gas grid at many locations in Europe and component manufacturers in all industries are taking an increasing mixing ratio into account when developing new products. 2G systems being deployed today are ready for this fuel. Our customers are investing in hydrogen ready infrastructure that will lead us into the energy transition.
2G's technology, matured over decades, is the most efficient solution for enabling visible short-term success in climate policy and at the same time setting the long-term framework for a decentralized, climate-neutral energy supply. Our talented, passionate, and experienced team look forward to helping you meet your energy goals.
#hydrogennow
Interested? Read about another 2G 100% hydrogen project here.
Share your comments, we love to hear what you think.